As the title suggests, I have some rather big news to share. There I was, working on something and all of a sudden I get an e-mail from Anuj Agarwal, Founder of FeedSpot, with the title "Try Gamification Blog in Feedspot Top 50 Gamification Blogs".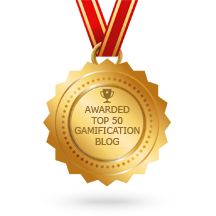 At first I thought it might be some sort of click-bait e-mail but I clicked anyway and, to my surprise, it is legit. I really had a hard time believing it because I know there are at least 50 gamifiers worldwide that are far more experienced than I am and yet I couldn't help but feel a bit proud. After all, it is a recognition of merits and every now and then it's important to take a step back and reflect.
Thank you for your support!
I'd like to thank Anuj for this award and to promise you that this is only the beginning. I have a lot to share with you and I am working on some interesting articles that might spice things up a bit and generate some healthy (and much needed) debate.
Until next time! 🙂
P.S. If you would like to see what other blogs made the top 50 worldwide, you can find the complete article here.